SEGi College Subang Jaya: Malaysia's first educational institution to use Chatbot
True to their brand pillar, "Doing Things Differently", SEGi College Subang Jaya hasalways believed in pushing the limits of technology to achieve this goal.Recently, they have created history as the first educational institution in Malaysia to use a chatbot in their "Chat & Win" engagement campaign.
SEGi College Subang Jaya wanted to explore registering potential students' interest,but in a more fun and innovative way, compared to boring old forms. With chatapps being the most commonly used apps today among millennials, it was a naturalchoice for SEGi to use the latest tech and incorporate an automated chatbot inthe process.
The"Chat & Win" Chatbot Mechanics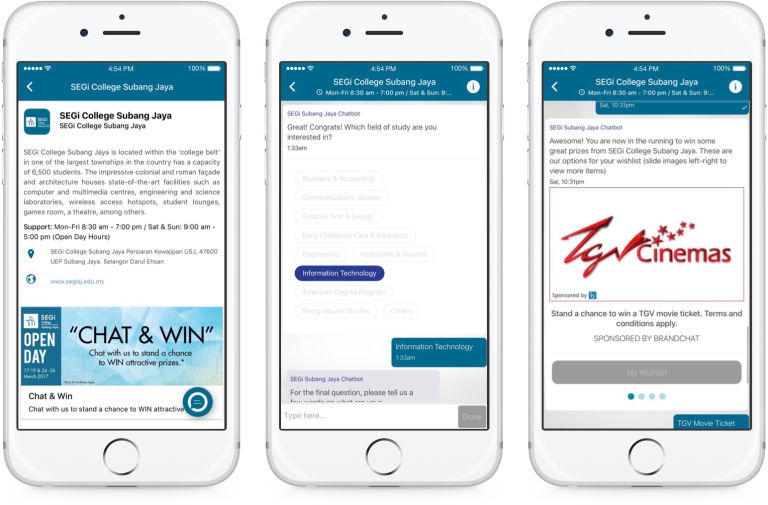 Users can download the Brandchat mobile app from Google Play or App Store and search for "SEGi College". Then, tapping on SEGi's Subang Jaya logo, users can start a chat with the chatbot and answer a few questions, just like conversing with a real counsellor. After answering the questions, the chatbot then showcases a selection of prizes users may win. Selected winners will be contacted by SEGi Subang Jaya after the campaign ends.
The Brandchat Chatbot Framework
Brandchat provides a full fledge developer platform for any brand to build chatbots similarto SEGi's "Chat & Win" in a quick and easy way. Just by signing up toBrandchat.co as a brand, you can start immediately developing Chatbots likesurveys, campaign engagements, product reviews, as well as more transactionalones, such as checking the status of orders for delivery, by retrieving detailsfrom your existing databases.
To participate in SEGi College Subang Jaya's "Chat & Win" campaign, download thebrandchat app from the Apple Store or Google Play, or head over to https://brandchat.co/download to find out more.
About Brandchat
Brandchat is a chat platform built from the ground up with the goal of connecting people with brands through chat, at scale. Brandchat provides tools for brands to leverage the chat experience to engage and optimize communications with their users.